All Shook Up: Behind the Scenes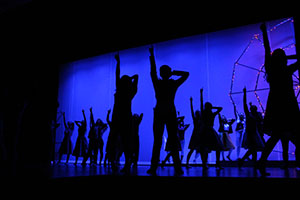 Hang on for a minute...we're trying to find some more stories you might like.
The Spring Musical "All Shook Up" contained dance-moves and songs of the late singer Elvis Presley.  The students had to work a lot on the set and memorization of the scenes before it was available for the public to see.  The auditions were in early January and the shows were at the end of April.  The public sees what happens onstage, but they do not see what happens behind the curtains.  
"I put my blood, sweat, and tears into it from building sets, to spending hours at the school to get everything right.  It's honestly exhausting going through all of the rehearsals and work, but it's worth it.  I love seeing the finished product and knowing I was a part of making it happen," junior Amber Walters said.  
Students had to meet earlier than the start of the show to warm-up and get ready to perform.  
"Before the show we would go into Mr. Coppola's room.  We did vocal warmups and then we all stood in a circle and chanted positive things.  I feel that standing in the circle helped to make sure that we bonded as a cast," freshman Bree Cherubini said.  
There were multiple changes of set and costumes done behind the scenes.  
"My hair took me about ten minutes to do and I did not have to change hairstyles.    Throughout the show I had multiple dresses that I had to change into.  Fortunately, I did not have to scramble to throw different dresses on and still had plenty of time," junior Olga Intriago-Godwin said.  
After the show, cast members were invited to go out to eat in celebration.  
"Friday night was a night filled with adrenaline and excitement.  I knew a lot of people there so I felt really excited to perform.  I feel that there was a lot of positive energy that night.  Afterwards, most of the cast went to IHOP and wreaked havoc there.  There were about 34 people who came.  We were all toasting and celebrating our show's success," sophomore Chance McCallister said.
The cast even made a new tradition during the show.   
"On Sunday multiple people brought in cameras.  We decided we wanted to start a new tradition of taking fun pictures and selfies.  We hung them on the wall to create a collage of all of our pictures that we were able to take together to keep the memories," junior Alissa Burch said.
One of the leads in the musical, Dylan Intriago-Godwin, felt that the show helped him with the stress of graduation approaching and with his confidence.  
"I just think, "Wow, I've never would've imagined doing this".  Being in this show kept reminding me of how big of a value I have and how important I am as an actor and as a singer.  This show has made me gain confidence and turn my stress into art," senior Dylan Intriago-Godwin said.