What is the Big Deal with Starbucks's 'Unicorn Frappuccinos'?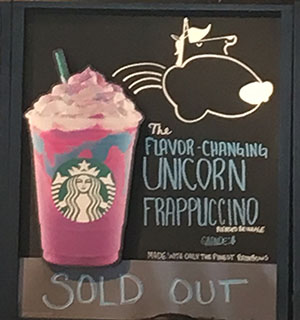 Hang on for a minute...we're trying to find some more stories you might like.
Containing an estimated 76g of sugar in the largest size, the Unicorn Frappuccino from Starbucks Coffee Company was a hit in Titusville and in the nation.  According to UBS research, the Unicorn Frappucino generated roughly 180,000 Instagram posts. The drink was only made available during April 19th-April 23rd.  Out of twenty-five students that were asked if they had tried the drink, only two people were successful in being able to purchase the drink.  The drink blended with four different types of syrup and sprinkled with blue and pink powder sold out quickly.
Junior Ashley Wagoner tried the drink last Wednesday.  
"It was too sour! It looked really nice, but the taste was disgusting.  It tasted like sour milk.  I will definitely not purchase that drink again," junior Ashley Wagoner said.
An employee at the Starbucks on Cheney Highway said she was asked by almost every customer if the drink was still available.
"We do not know when the drink will be available again.  The company has not informed us when or if we will get more powder or syrup for making the drinks," the employee said.
Junior Alissa Burch claims that she would not like to try the drink even if it was still available.
"Based off of the reviews online, I would not try the drink.  I think that the combination of milk and sour things will taste disgusting.  I do not care for sour candy and do not want to waste my money on things that will probably make my mouth burn," Alissa said.   
Despite the negative reviews, some people still want to try the drink.
"I would like to try the drink.  I hope they bring back the drink.  The colors look really cool and I've seen pictures of the drink changing colors," junior Sarah Johnson said.  
Additionally, the Starbucks located at the local Target store is also sold out of the drink.  The company has not revealed if the drink will be available in the future.
"It is too sugary to consume.  I definitely would not recommend it to anyone," junior Eryn Rutherford said.  
There is talk of unicorn related drinks continuing to be created.  There are currently roughly twenty posts talking about a barista creating the Unicorn Lemonade.