Superior Music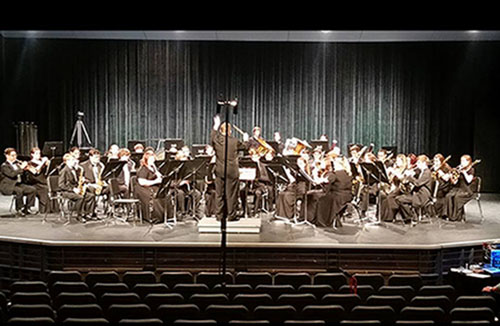 Hang on for a minute...we're trying to find some more stories you might like.
All of our music groups were rated superiors at the spring Music Performance Assessment (MPA).
The Music Performance Assessment is a competition for the orchestras, choir, and concert band. Groups are judged based on a few pieces picked by their conductors and sight reading an unknown piece of music. The goal of MPA is to encourage groups to listen and learn from each other, learn and apply music fundamentals, and provide a goal for the group.
"Everyone is judged based on the same state standards. Superiors are the highest rating that the groups can receive, which puts them in the top groups," band director Dr. Davis said.
Before the day of MPA, students prepared for weeks in advance. Each group's conductor chose the pieces they would perform. It is the students' responsibility to continue to practice outside of the class time.
"We have been working on this music for months, and want to be recognized for our hard work. The day of is a big day. We go through a long process that could take up a decent amount of the day for us," senior Alliana Hack said.
On the day of MPA, each group reports to the host school where MPA will take place. There are specific times assigned to each high school for their performances. The groups have a small amount of time to warm-up, then they are judged on selected songs. After two judged times, the group must wait for the scores.
"It is a period of time where thoughts of scoring badly come to mind. Sometimes we can receive results quickly and other times we don't know of the scores until later in the day. To know that we received superiors in every music group is wonderful," sophomore Ashley Nordby said.
Congratulations to our concert band, orchestra, and both Women's choir and Chamber Ensemble for the superiors at the Music Performance Assessment.