Cell Transformations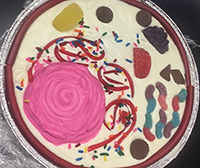 Hang on for a minute...we're trying to find some more stories you might like.
The Biology 1 Honors class taught by Dr. Gay is making a sweet treat of  3-D edible models of plant and animal cells. His classes are learning the different parts of a cell and organelle and why they are important.
Students had two weeks to plan and make their cells.
"I was looking forward to seeing the students make a wonderful cell model that depicts animal or plants. I was also excited for them to make really good food to enjoy," Dr. Gay said.
Creativity was a main part in creating the animal or plant cell. Each group used different foods and candy. With using dissimilar foods and candy, the cells looked unique in every way.
"My favorite part about the edible cell project was tasting everyone's cell because they were extremely tasty and looked interesting seeing where everyone put each part of the cell. I worked well with my group because we are all close friends helped one another out," freshman Trisha Suffern said.
Five points extra credit was given to students who did exceptional work or who went outside the box displaying a theme shared by Dr. Gay. Most accurate, most disgusting, most last minute, most attractive, and most interesting were awards given.
"I used cabbage, corn beef, potatoes, Irish soda bread, beef and Guinness pie to create my edible cell. I picked this because it was the day before St. Patrick's Day and there is no better day to give a sample of my culture. All of the preparing and cooking took 72 hours. I enjoyed making and serving it to watch my fellow classmates enjoy it," freshman Ian Gadapee said.
"From doing this project I learned the structure of the cell and the placements of all the organelles in my animal cell I made," freshman Tripp Skinner said.